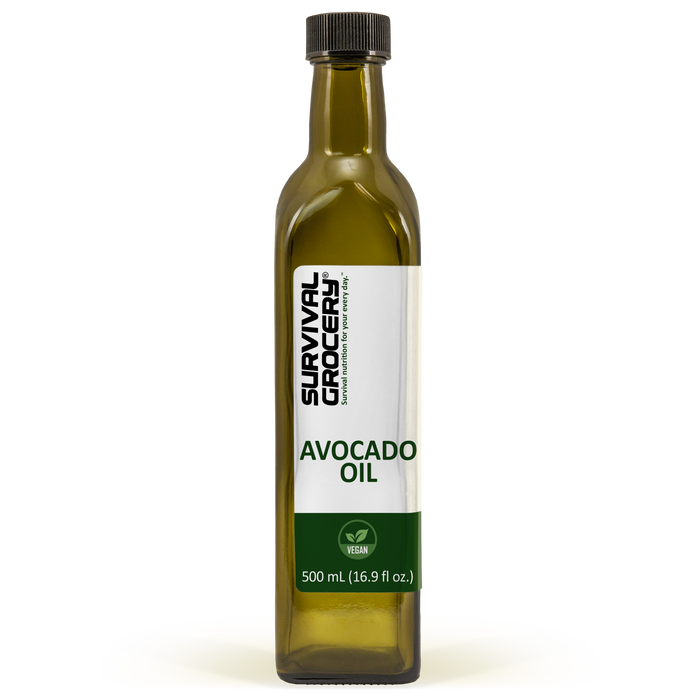 Avocado Oil (16.9 oz.)
Original price
$16.99
-
Original price
$16.99
Survival Grocery™ Avocado Oil is 100% Avocado Oil, non-GMO, Vegan, Natural, with no preservatives. It is unrefined like our Organic Extra Virgin Olive Oil, but it has a higher smoking point, which means it can be used to cook at higher heat and is great for stir fry. It doesn't have much flavor which makes it a good option for cooking.

Avocado Oil is known for its high Vitamin E content, monounsaturated fatty acids and Beta-Sitosterol.

Avocado Oil benefits may include improved heart health, reduced inflammation, and a reduction of joint pain.

At Survival Grocery™ we understand that environmental conditions are critical to protecting nutrition. The higher the nutritional value of the food, the more there is to lose. And we only deal with high nutritional value stuff, so... Our Avocado Oil is stored in refrigerated conditions in our facility, then bottled in dark glass providing a protective light barrier and no concern of chemical reactivity. The end result is fresh, protected Avocado Oil, maximum nutrition intact, arriving to your doorstep. 
Serious nutrition demands a serious approach to bottling & packaging, that's what you get with Survival Grocery™. 
Disclaimer: This information is for educational purposes only. The FDA has not evaluated these statements. This product is not intended to diagnose, treat, cure, or prevent any disease. This product has been packaged in the same facility as peanuts, tree nuts, wheat, soy, and other potential allergens.