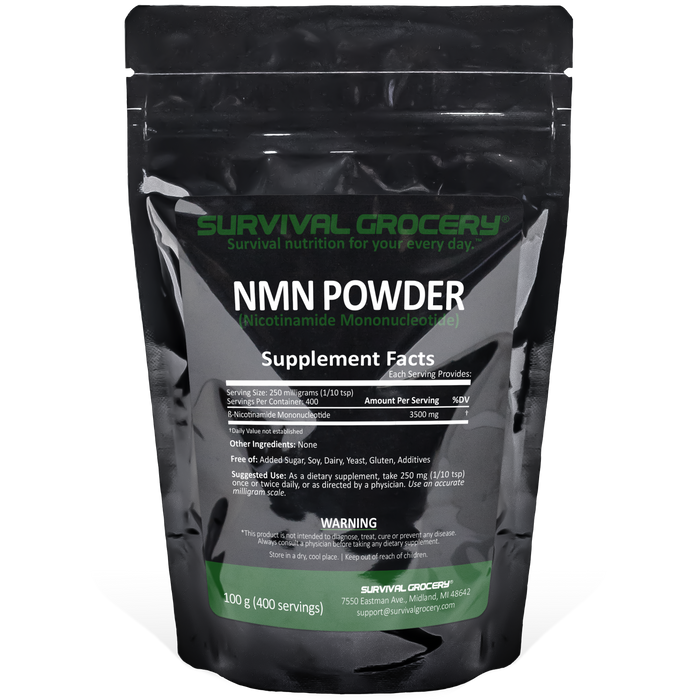 NMN
Health & longevity benefits, including potential anti-aging properties*
Original price
$139.99
-
Original price
$139.99
Perhaps no other supplement embodies the "Survival means life to years, not just years to life" Survival Grocery™ ethos more than NMN.

NMN (Nicotinamide Mononucleotide) is gathering an enthusiastic following for its numerous health & longevity benefits, including potential anti-aging properties, improved heart health, energy, mood, and skin health.

NMN is a precursor to NAD+, a coenzyme that performs vital functions at a cellular level. Studies have shown that by supplementing with NMN you can safely and effectively boost your NAD+ levels by as much as 40%.

This is particularly valuable as we age since NAD+ levels (as measured in human brain tissue & skin) fall off predictably and quite precipitously over the decades.
Don't miss out on the many health benefits of NMN as part of your supplement regimen.
Disclaimer: This information is for educational purposes only. The FDA has not evaluated these statements. This product is not intended to diagnose, treat, cure, or prevent any disease. This product has been packaged in the same facility as peanuts, tree nuts, wheat, soy, and other potential allergens.