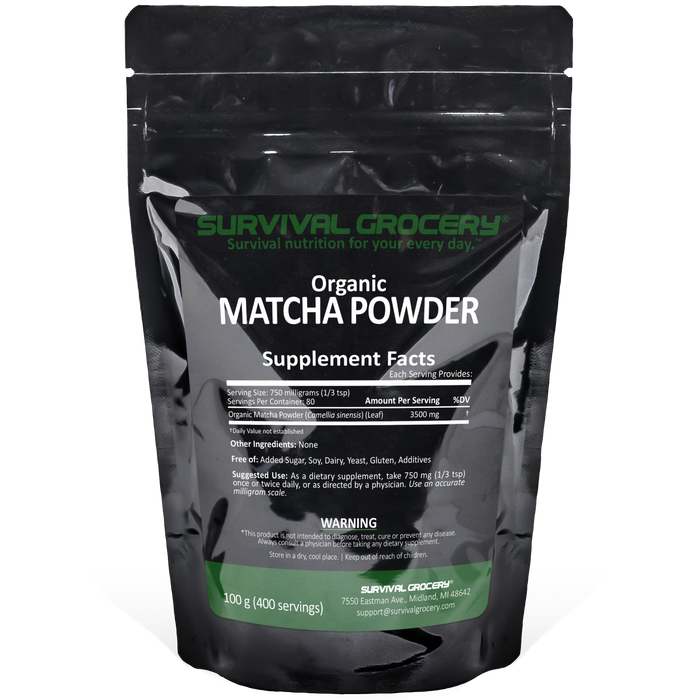 Organic Matcha Powder (60 g)
Superior grade, Organic Matcha Powder from Survival Grocery™
Original price
$25.99
-
Original price
$25.99
Superior grade, Organic Matcha Powder from Survival Grocery™ is the ideal daily pick-me-up, providing calm, balanced energy without the common caffeine crash. Infused with antioxidants for glowing skin, strong metabolism, stable mood and calm energy. In fact, matcha powder contains more than 10x the amount of antioxidants found in traditional green tea! Abundant in EGCG, Catechins, Chlorophyll & powerful Phytonutrients that enhance the skin and support elasticity and healthy collagen levels and help control sugar and hunger cravings.

L-theanine promotes alertness and concentration without the typical "crash" in energy. Matcha has also been shown to benefit heart health, protect the liver, and boost weight loss.
How to use our Organic Matcha Powder:
For a cold drink, add 1 teaspoon of Survival Grocery™ Organic Matcha Powder to 12 oz. of cold water and shake

For a hot drink, add 1 teaspoon of Survival Grocery™ Organic Matcha Powder to 12 oz. of warm water (avoid boiling). Ideal temperature is 140-150 degrees Fahrenheit

If desired, add milk and/or sweetener of your choice such as honey or maple syrup and enjoy your daily cup (or cups!) of this seriously powerful nutritious drink.

At Survival Grocery™ we understand that environmental conditions are critical to protecting nutrition. The higher the nutritional value of the food, the more there is to lose. And we only deal with high nutritional value stuff, so... Our Organic Matcha Powder is stored in refrigerated conditions in our facility, then packaged in pouches with a strong oxygen & light barrier. (No ineffective breathable or windowed bags here.) Just prior to final package sealing, the package interior is nitrogen flushed to expel any oxygen, reducing food oxidation (degradation) over time. A desiccant pack is also added to ensure moisture control. The end result is protected Organic Matcha Powder, maximum nutrition intact, arriving to your doorstep. 
Serious nutrition demands a serious approach to packaging, that's what you get with Survival Grocery™. 
Disclaimer: This information is for educational purposes only. The FDA has not evaluated these statements. This product is not intended to diagnose, treat, cure, or prevent any disease. This product has been packaged in the same facility as peanuts, tree nuts, wheat, soy, and other potential allergens.