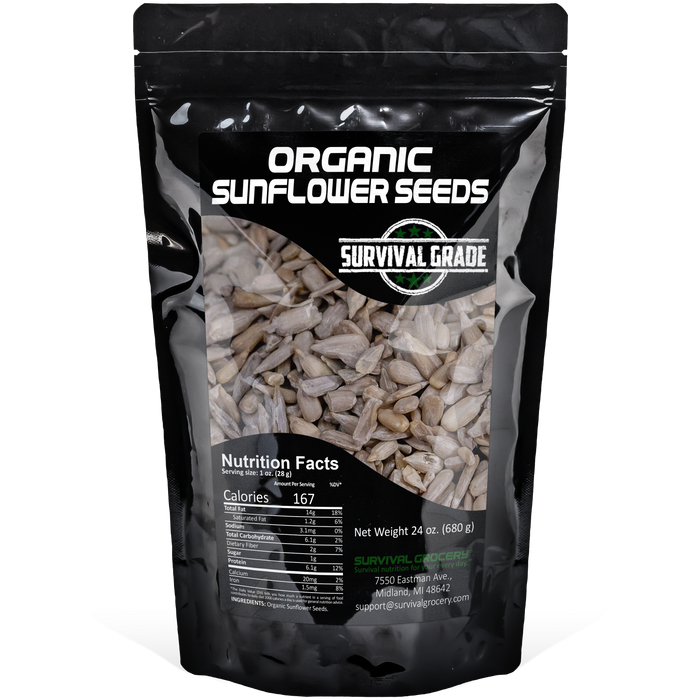 Organic Sunflower Seeds (24 oz.)
Original price
$14.99
-
Original price
$14.99
Organic Sunflower Seeds have particularly potent anti-inflammatory properties and deliver several essential vitamins and minerals.
They've been linked to benefits such as improved heart health, bone strength, skin health, immune system function, and cognitive function. They may also reduce cancer risk.

Mix or blend Organic Sunflower Seeds in your yogurt, smoothies, salads, or just about any meal to achieve their health advantages.

At Survival Grocery™ we understand that environmental conditions are critical to protecting nutrition. The higher the nutritional value of the food, the more there is to lose. And we only deal with high nutritional value stuff, so... Our Organic Sunflower Seeds are stored in refrigerated conditions in our facility, then packaged in pouches with a strong oxygen & light barrier. (No ineffective breathable or windowed bags here.) Just prior to final package sealing, a desiccant pack and oxygen scavenger pack are added to guard against the vitiating effects of moisture and oxygen. The end result is protected Organic Sunflower Seeds, maximum nutrition intact, arriving to your doorstep. 
Serious nutrition demands a serious approach to packaging, that's what you get with Survival Grocery™. 
Disclaimer: This information is for educational purposes only. The FDA has not evaluated these statements. This product is not intended to diagnose, treat, cure, or prevent any disease. This product has been packaged in the same facility as peanuts, tree nuts, wheat, soy, and other potential allergens.